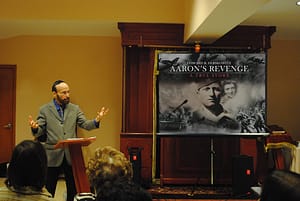 Speaking Engagements
As a result of his decades of presenting convinsing oral arguments to juries as a trial lawyer, and years of preseting Aaron's Revenge to various venues, author Howard Herskowitz is an experienced speaker who captivates audiences with the story of his father described in Aaron's Revenge, the amazing gripping true story of Aaron Herskowitz's courageous journey during World War II. The setup for the edited video excerpts below is in connection with Aaron's courageous actions while still a slave under the Nazis and Hungarians at the pivotal battle of Voronezh deep in the Ukranian province of Russia. Early on the morning of January 13, 1943, when the Russians mount a surprise attack and Aaron realizes that all Jewish slaves at the front of the Axis lines will be killed at any moment, he turns to face the Axis positions and yells in German and Hungarian, "Retreat!" handing the Russians a major victory and the Axis a crushing defeat.

Below the video you will find reviews by the hosts of some of these events. If you wish to have Howard Herskowitz appear at your venue for a speaking engagement, please see our contact information on the Contacts Page of this website.
SOME REVIEWS OF HOWARD HERSKOWITZ'S SPEAKING ENGAGEMENTS
Dear Mr. Herskowitz, when I read your book, I was overwhelmed with a myriad of tumultuous emotions. I could not put it down until I had finished every last word of it, soaking in the spellbinding story of your father's journeys and the powerful history of our people only 80 years ago. Regarding your live presentation, I should have known from your captivating book how absolutely amazing your talk was going to be. The energy in the room was comforting, as people mingled and spoke in hushed voices. You could feel the excitement and anticipation grow. We all took our seats and the performance began. I say 'performance' because indeed that is what it was. You treated us to a most fabulous soliloquy of excerpts of your father's intolerable years during the Holocaust. You interspersed your talks with live footage of the Hero himself, speaking of the atrocities, moral dilemmas and feelings about his trials and tribulations. We felt his pain as he choked back tears and shared his memories of those five horrendous years he spent under  the Nazis and Hungarians. Howard, you passionately and eloquently shared with the audience just enough to wet their palate, leaving them wanting more, the more of course, which is in the book! A must read. There were tears, there was laughter. I could not help but feel a deep spiritual bond, a connection and passion with everyone in the room! Howard, you surpassed my expectations! I cannot thank you enough for your courage and hard work in allowing the world to hear the atrocities of the Holocaust and for sharing such a personal and riveting story with the world. May the memory of your parents be honored and the memory of the 6 million who perished never be forgotten. Thank you once again for allowing us a powerful glimpse into Aaron Herskowitz's life. May G-d help you and guide you in your future endeavors!
— Rabbi Schneur Kaplan, Downtown Jewish Center Chabad.
Howard Herskowitz's tale of his father's experiences during the Second World War is at once terrifying and exhilarating. The frightening parts, of course, remind us of the inhumanity and hideous atrocities set upon innocent people, such as Aaron Herskowitz; while the thrilling parts inspire and amaze us at the range of his courage. Aaron Herskowitz was not a boastful man, he was not one to fill his son with stories of his incredible exploits. Rather it was Howard Herskowitz's persistent questions that eventually triggered the unfolding tales of his father's daring acts. The son has done his father proud by relaying the unspeakable paths he had to take, and creating such a powerful and enthralling read.
We had the good fortune to have Howard Herskowitz himself present this story to our Sunday Salon – His presentation was so professional, so well done, that everyone was on the edge of their seats. Everyone loved it! Howard accompanied his talk with a powerpoint presentation that clearly outlines the geographic and historical periods. I, and all our attendees highly recommend having Howard Herskowitz come to your venue and allow him to give you a wonderfully educational exhibit as well as a stirring lesson.
— Marsha Balaban, Author and Community Coordinator
Our synagogue hosted author Howard Herskowitz during a recent Shabbat service. Howard wrote an outstanding spellbinding book entitled "Aaron's Revenge," the true story of his father's unusual means of survival during the Holocaust. The Shabbat service commemorated Krystallnacht and Howard's accounting of his father's strength and hope reinforced the message of "Never Again." Howard is a captivating storyteller; animated, humorous and heartwarming. He is also a consummate professional; attentive to detail and punctual. Our congregation thoroughly enjoyed listening to him. We are a Reconstructionist Reformed congregation with a big tent that includes worshipers of the Christian faith, and these members found Howard's presentation equally compelling. We wish Howard continued great success. B'Ahavat Olam.
— Hazan Rav Daniel Marmorstein, Rabbi and Cantor
Dear Howard Herskowitz, feedback from participants of your book event were extremely positive and they were most appreciative of the dynamic presentation that you gave on the amazing compelling book that you authored — " Aaron's Revenge". They were all touched by the moving story of your father's survival during the darkest period in Jewish history – – The Holocaust, and they were absolutely riveted with his retribution against his former Nazi persecutors. We certainly look forward to having other opportunities to host you and hope that you have other opportunities to share this important story. Sincerely,
— Miriam Meislik — Michael-Ann Russell Jewish Community Center.